BOISE, Idaho — Simplot understands the importance of respecting Earth's resources. In fact, "Respect for Resources" is one of our Company's three Core Values. That's why we began working in 2012 with several state and federal agencies, and other organizations such as Trout Unlimited, on a major ecological restoration of the Yankee Fork River in central Idaho.
This project grew out of the need to restore degraded habitat on the Yankee Fork River in central Idaho; this river has historically been used by salmon and steelhead for spawning and rearing habitat. Simplot owns portions of the Yankee Fork and has mineral rights in and adjacent to the river. Between 1940 and 1952, a practice called dredge mining happened along the Yankee Fork River to remove gold. This type of mining, using the Yankee Fork dredge (owned by Simplot), significantly altered the Yankee Fork and reduced the fish habitat in the river. Although several decades have passed since dredging, the area has not been able to revert to a natural condition.
Discussions began a number of years ago between Simplot and federal and state agencies on improving the aquatic health of the river. A multi-year project was developed to restore this river reach, with funding provided by the Bonneville Power Administration.
The specific goal of the project is to significantly improve the spawning and rearing habitat in the river for threatened and endangered fish species, especially summer Chinook salmon and steelhead. Other native fish species such as Bull trout and westslope cutthroat trout will also benefit from this work.
"The restoration of endangered and threatened salmon and steelhead runs is a major ecological priority throughout the Northwest," said Simplot Vice President of Environmental and Regulatory Affairs Alan Prouty. "The Yankee Fork has the potential to be a very productive body of water to improve salmon and steelhead populations in central Idaho," he added. In light of this, the restoration of the Yankee Fork to a more natural "channel" was identified as an important project in the Northwest for this restoration effort.
During 2022, restoration work focused on a stretch of the Yankee Fork known as the Bonanza Stream. As shown in this updated project video, field work focused on "sealing" the riverbed to be able to maintain water in the river channel.
This project is also a testament to the success and importance of collaboration. It is a joint effort between the Bonneville Power Administration, Bureau of Reclamation, Custer County, Idaho Governor's Office of Species Conservation, J. R. Simplot Company, National Marine Fisheries Service, Salmon Challis National Forest, Shoshone Bannock Tribes, and Trout Unlimited.
The images below show how the project is changing the area.
This image, taken in June 2018, shows what the area looked like prior to project implementation.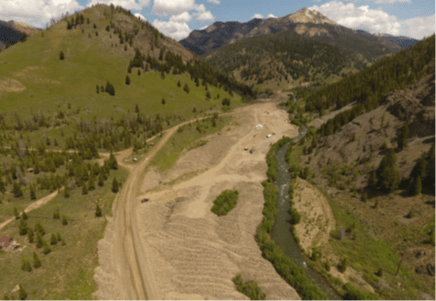 Image by Lost River Fish Ecology, Inc.
This image, taken in June 2022, shows what the area looked like two years after the main phases of the project were completed.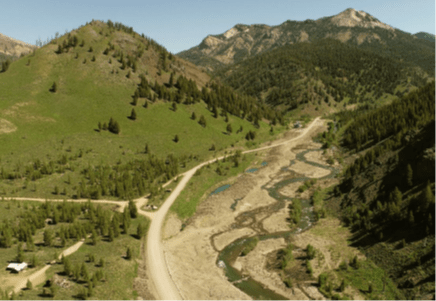 Image by Lost River Fish Ecology, Inc.
This image, which is an artistic rendering, shows what the area is expected to look like several years from now. You can see that the natural stream channels, vegetation, and floodplains will have been reestablished.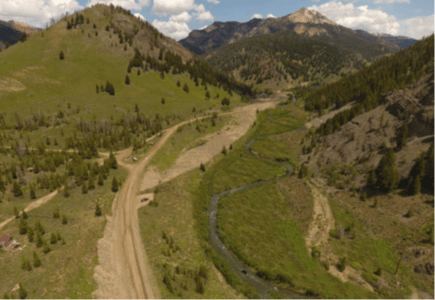 Image by Bureau of Reclamation


About Simplot
The J.R. Simplot Company is a family-owned, privately held global food and agriculture company headquartered in Boise, Idaho. Its integrated portfolio includes food processing and food brands, phosphate mining, fertilizer manufacturing, farming, ranching and cattle production, and other enterprises related to agriculture. Simplot has major operations in the U.S., Canada, Mexico, Argentina, Australia, and China, with products and services available to customers worldwide. For more information, visit www.simplot.com.